For more than 20 years, Utilicomm South has been a prime contractor  performing installs, MDU rewires, structured cabling, drop bury and directional drilling services for companies supporting the largest players in the industry including Comcast, Charter and Verizon.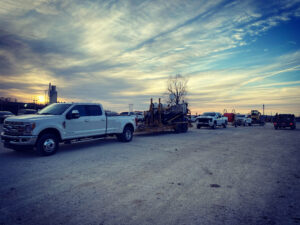 With an eye on the future, we prepared for the fiber revolution, adapting our business model to move forward into exciting new arenas well prepared by our decades of experience.
Knowing that client demands can range from small short-term projects to a need for several miles of directional drilling in a matter of days, we've expanded our capacity through a network of  industry leaders to meet high volume demands quickly as we work to exceed our customer's expectations.  This model also supports other skilled teams in the industry who share our value for customer satisfaction and our work ethic. Our own team's field experience and exceptional project management capabilities make us  a preferred partner and the choice for industry leaders who have  trusted us to deliver quality on time for decades.
Our corporate office is located in Gainesville, Georgia with field offices in Florence, Kentucky and Indianapolis, Indiana.  From the start, our motto has been "We Stand For Quality!" And we have been living up to it one customer, one job at a time! We perform for our customers to exceed expectations based on their metrics and our own high standards of excellence.  Our team members are committed daily performance improvement, to helping our communities stay connected, and to corporate citizenship through ongoing charitable support of civic organizations that make our communities a better place to live.
Service Areas:
Ohio, Kentucky, Indiana, and the Southeast
Utili-Comm South is proud to support Sisu (formerly Challenged Child and Friends), which offers an integrated learning environment where children from 6-weeks to 6-years with special needs learn and interact alongside their typically developing peers.
Our Team